Hello Everyone!
Cryptee's new version is out, and it's packed with fantastic and exciting new features many of you have been eagerly looking forward to!
Intelligent Natural Language Search for Photos, iOS 13.4 Mouse & Trackpad support, Epub/Ebook support for Cryptee Docs, Sorting files by types, 45% smaller app, 4K display support, Docs undo history settings, and more!

INTELLIGENT NATURAL-LANGUAGE SEARCH FOR CRYPTEE PHOTOS
It's always a difficult challenge to find the exact photo you're looking for.
Searching for filenames or album-names is good for basic use, and takes time, but what if you're looking for something specific?
Something you took at night in the summer of 2016, or a photo you know you took 4 months ago in the afternoon.
I'm proud to say you can now search for your encrypted photos, just the way you think.
In plain, natural language, and Cryptee will find you what you're looking for.
Best part of it is that, since all your photos are encrypted on your device, all this language recognition magic happens on your device, without any servers involved, in complete privacy, just the way you'd expect from Cryptee.
So how does it work?
All you need to do, is simply type whatever you're thinking and looking for. Like:
"photos from spring 2019",
"photos I took in the morning of spring 2019"
"two years ago in march"
"something I took in december 2016 in the afternoon"
"last year in april"
"pics from 4 weeks ago"
"morning photos from 2015"
"photos I took in the last month"
etc.
You got the idea!
Do you live in the southern hemisphere? Thinking: "But wait a second, summer here is winter in the northern hemisphere... How does Cryptee know the difference?"
When you type a season into the search bar, like "summer", "winter" etc, Cryptee checks your device's local timezone (i.e. "Australia/Brisbane"), and intelligently picks seasons for the correct hemisphere you're in at the moment of the search. All on your device, in complete privacy, without any servers involved. So if you're a fan of vegemite, don't worry!
Let's see how it works in action!
Your browser does not support the video tag.
For the time being this feature is limited to searches in English only, but in the upcoming months, you can expect support for other languages.
IOS & IPAD OS 13.4, MOUSE & TRACKPAD SUPPORT
In the upcoming days, Apple is going to release iOS/iPad OS 13.4 for iPads, allowing you to connect a bluetooth mouse or trackpad to your iPad, and use your tablet just like a laptop.
I'm happy to say that this update of Cryptee brings support for mice & trackpads on iPads, even before Apple's ready to release the new operating system.
You can use all the mouse/trackpad gestures you're used to from Cryptee's desktop version on your iPad now.
Such as hovering your pointer to the left side of the screen to quickly access your Documents & Folders,
Or right clicking on documents/folders/files and renaming them. Or selecting text and making it bold etc.
Here's how it works!
Your browser does not support the video tag.
EPUB / EBOOK SUPPORT FOR CRYPTEE DOCS
In the long history of censorship and oppression, perhaps the oldest form of censorship is banning and burning books.
Throughout history, and even today, governments all around the world ban and censor books.
Today, I'm proud to make history and announce the first encrypted e-book reader.
You can now upload and read your EPUB e-books on Cryptee Docs. All encrypted on your device, all in complete privacy, just the way you'd expect from Cryptee.
Cryptee automatically tracks your progress in the book, and syncs across your devices instantly. You can even refer to your books, side by side with your documents.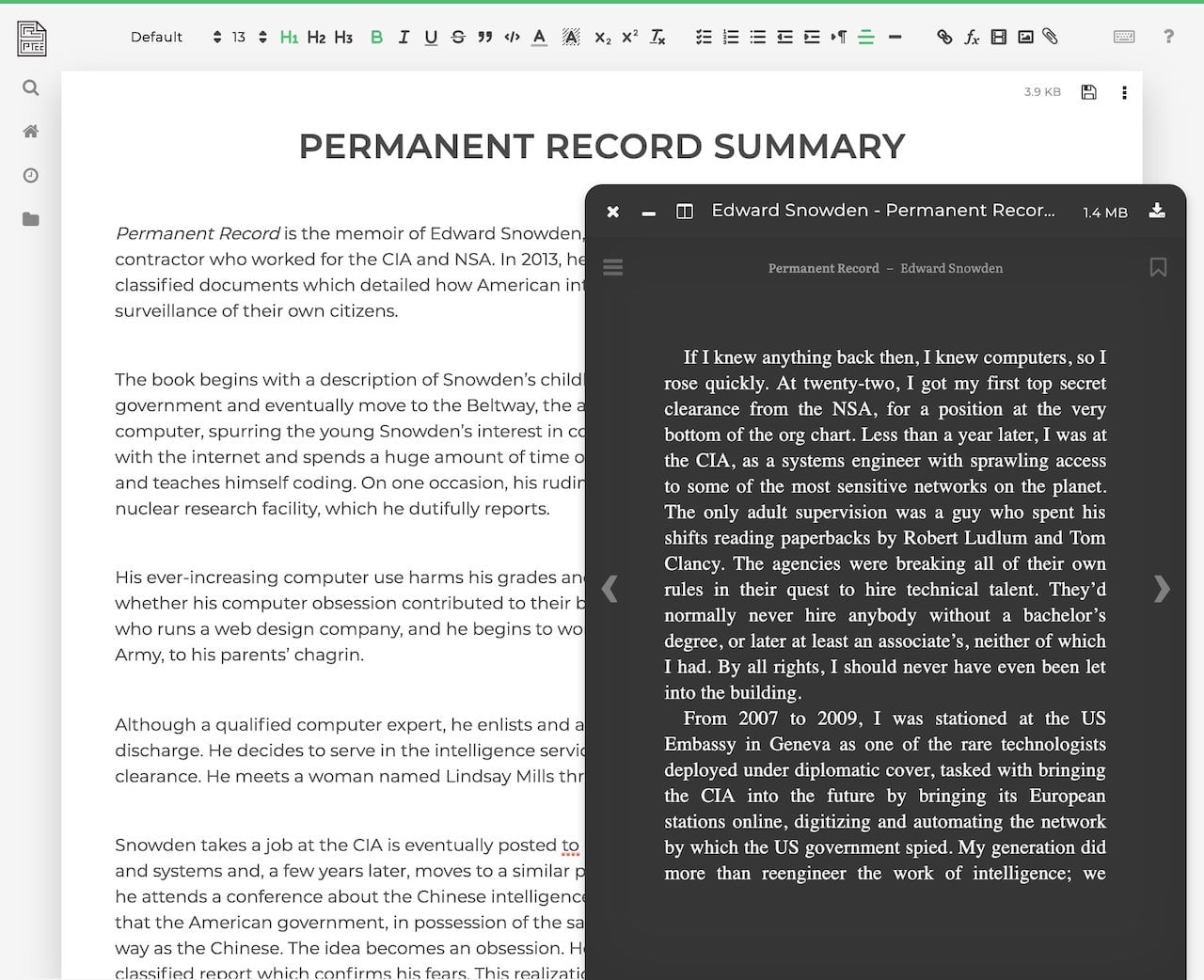 You can also bookmark pages with one click, and your bookmarks will be sync'ed across all your devices instantly.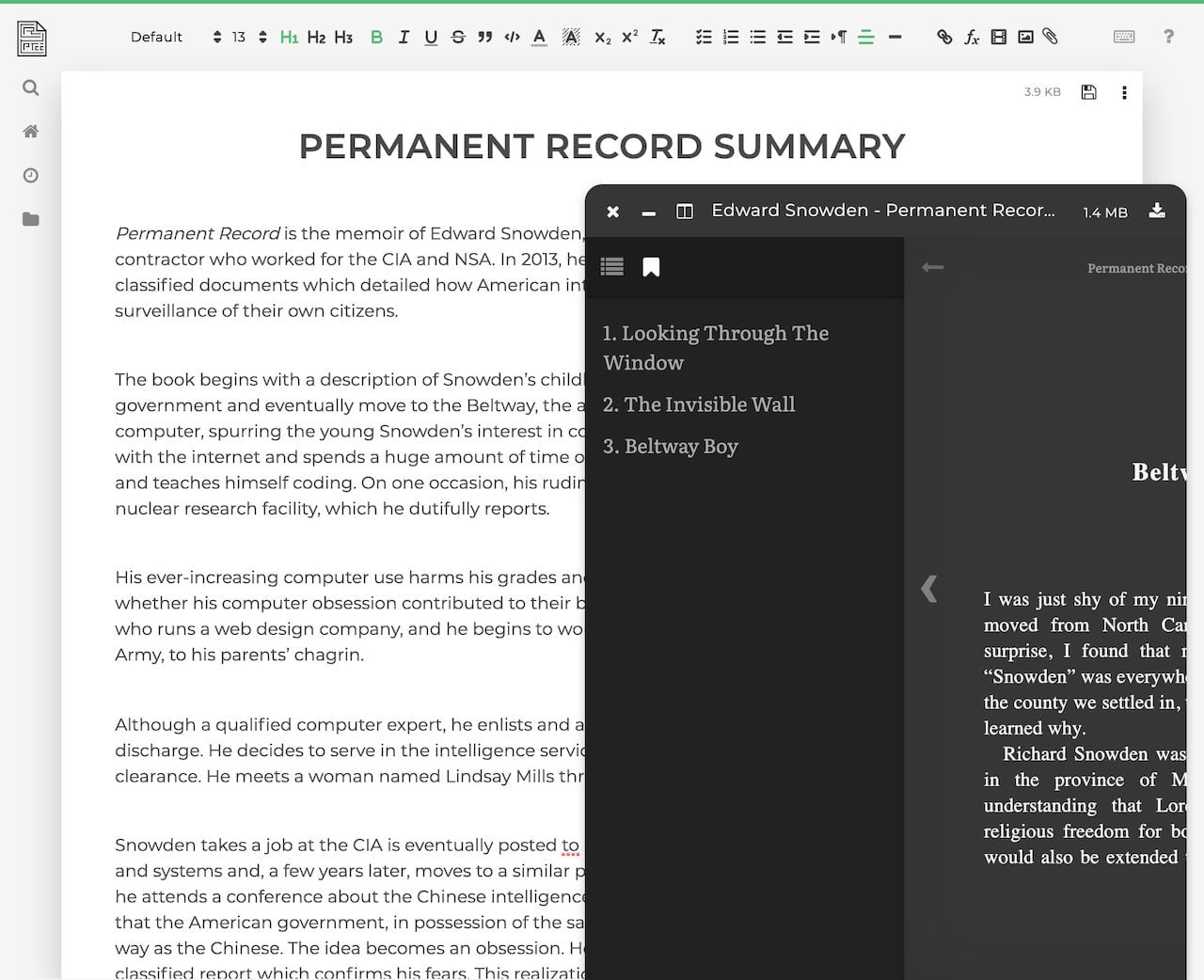 You can also access the table of contents of the book, and navigate to another page quickly with one click.
And of course, on your tablet or phone, the reader fills the whole screen, so you can read your favorite book privately and comfortably with a cup of coffee.
Two caveats.
1 - For the time being ebooks are only available while Cryptee Docs is online, (due to how attachments / files other than Cryptee Documents are handled in the app) but we're rapidly working on making ebooks available offline, and we're hoping to have this feature ready in a month or two.
2 - EPUB is a very complex format to display with tons and tons of vendor-specific quirks. We are confident that our reader will work well for 99.9% of the books out there. But due to the nature of EPUB files, there is a small possibility that you may experience formatting issues with some books. If you run into any issues, reach out to us via our helpdesk. We'll fix things up.
FILETYPE SORT
In addition to 'filename' & 'last-edited time', you can now sort your documents and files by 'filetype'.
Allowing you to find what you're looking for much faster in folders.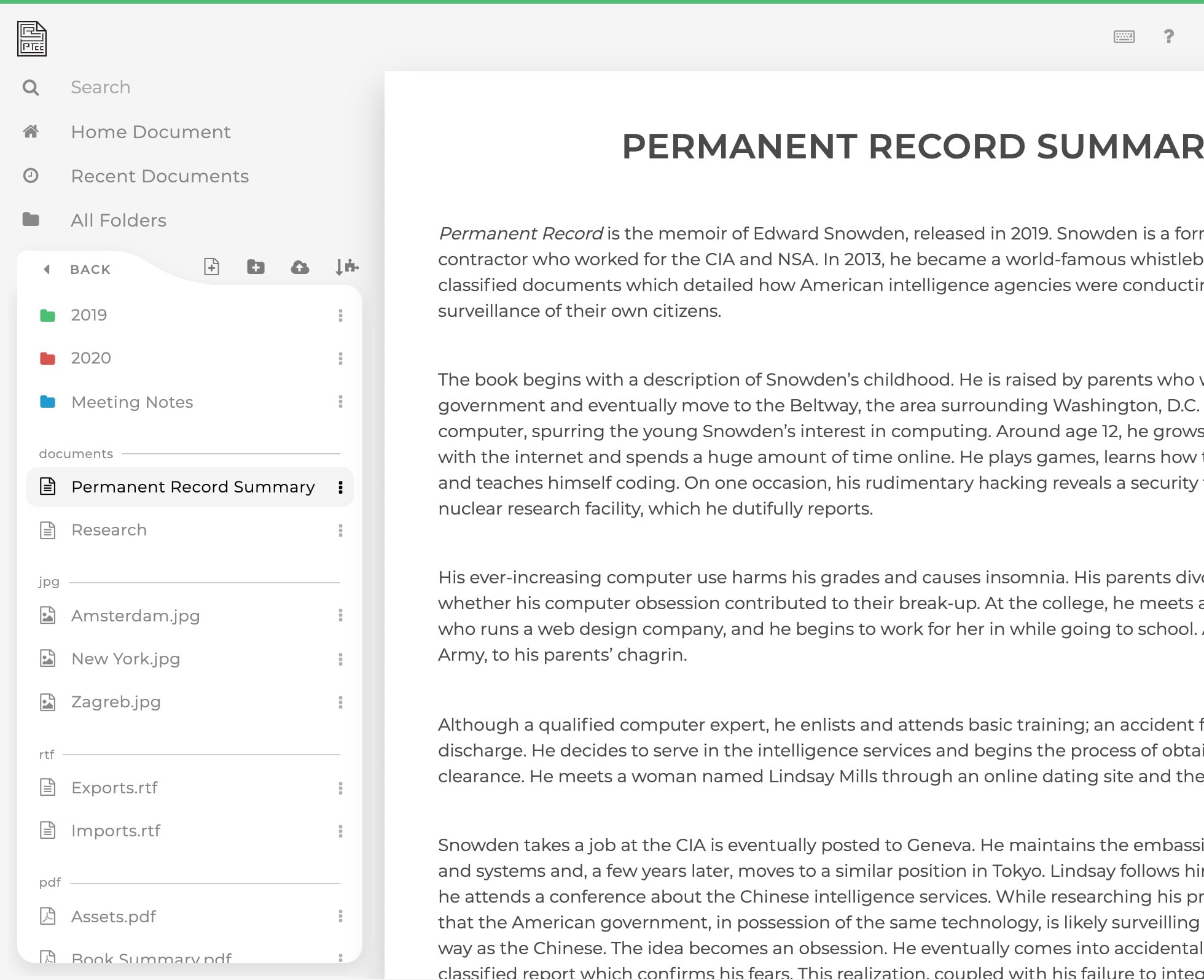 APP PERFORMANCE & INSTALL SIZE
We've been hard at work at making Cryptee more performant on all devices.
A fresh install of Cryptee used to be ~11.2MB. After many hours of carefully re-factoring our code and hundreds of cups of coffee later, Cryptee is now ~6.1MB.
That's correct. The app is now ~45% smaller. (This includes all the new features of this update)
The installation size decrease means faster installation times, faster performance on slower devices (especially on Android Go) and more priceless room on your devices.
But most importantly, and best of all, you'll notice that Docs and Photos will now start 1 - 2 seconds faster!
2K & 4K DISPLAY SUPPORT FOR PHOTOS
Cryptee Photos now supports 2K and 4K displays. If you have a high resolution display, you can now see larger & higher-resolution album thumbnails, and more photos in your grids. Unlike traditional responsive-web-development, this was quite a complex challenge for Cryptee. Due to the fact that all images & thumbnails you see on your screen first have to be decrypted in memory, Cryptee has to intelligently calculate how many images can be displayed on the screen before the device / browser runs out of memory. More images = more decryption = more memory & processing power. After last month's multi-threaded decryption update, we've decided it's time to make Cryptee Photos shine on 2K and 4K displays.
DOCS UNDO HISTORY SETTING
Some of you have mentioned that the number of undo history steps Cryptee Docs offered was limiting.
You can now set the number of undo steps you'd like Cryptee to remember.
Other Improvements, Bugfixes & Closing Notes
This update also fixes 100+ bugs, a major one being: uploads to Cryptee using Firefox is now a lot more reliable even under bad network conditions.
Thank you for all your enthusiasm, help, understanding and kind support. Neither Cryptee, nor any of these features would be possible without you. If you're enjoying your experience on Cryptee, please consider supporting it by upgrading to a paid plan. It will help Cryptee immensely, and every payment helps us make the internet that much more safer and private.