Hello Everyone!
Happy New Year to those of you celebrating the western new year, from the Cryptee family in Estonia, Europe. Our home, Tallinn looks beautiful this time of year, so we thought we'll share a photo of our winter-wonderland city!

After an incredibly busy fall, we're back with an incredible update to Cryptee packed with new features, hundreds of bug-fixes and performance improvements!
YOU CAN NOW ADD PHOTO DESCRIPTIONS & EDIT DATES
We're really excited and happy to let you know that you can now add descriptions to your photos, and edit their dates in Cryptee Photos! These two have been the most frequently requested features, especially from new users who are migrating away from Google Photos / Amazon Photos to Cryptee Photos.
Here's how it all looks like!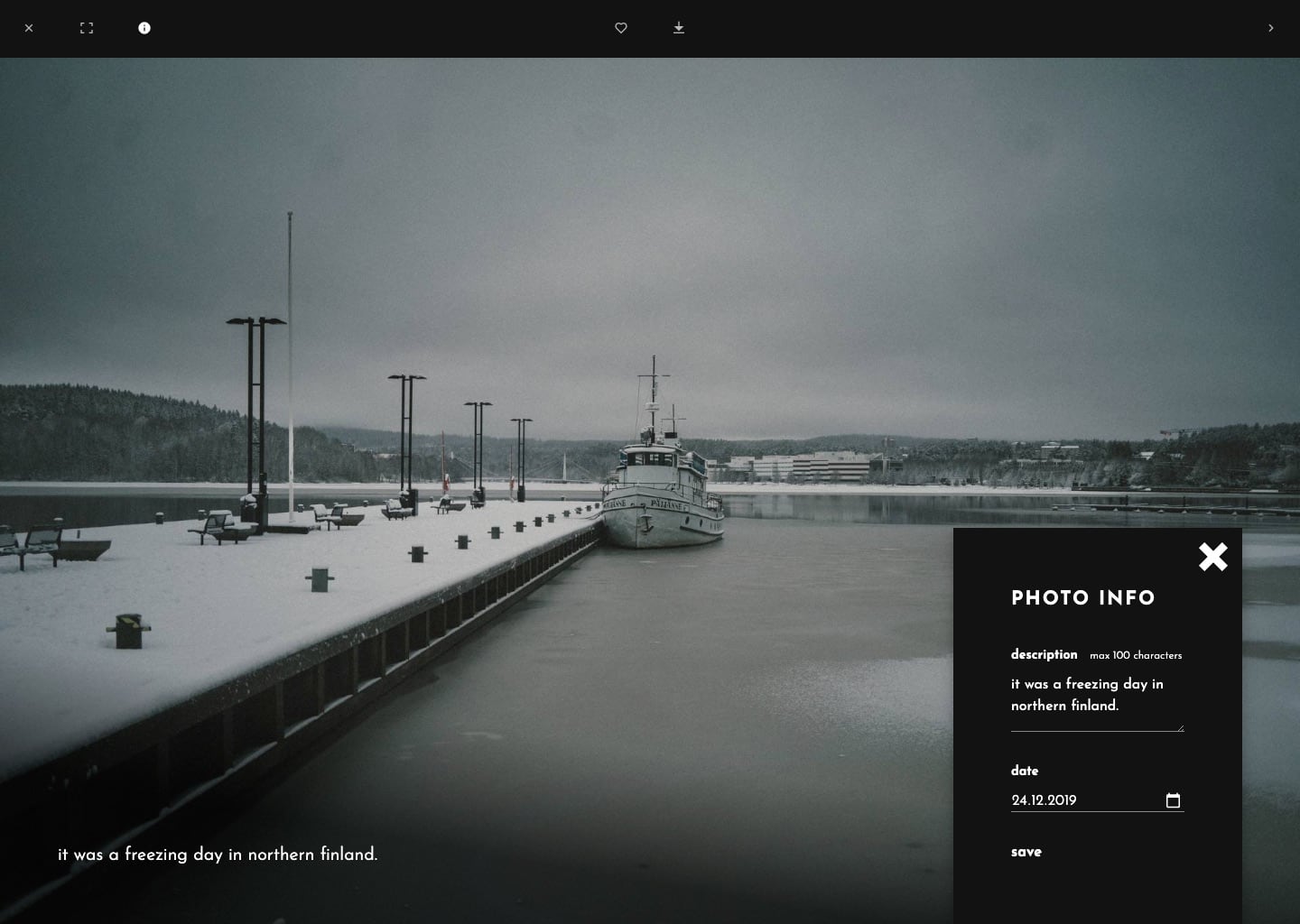 You can open up the photo you'd like to add a description or edit its date, and press the ( i ) icon on the top left. You'll see a pop-up, in which you can edit the photo's information, like its description and date. That's it. Your photos' descriptions will show in the bottom left corner as you swipe through your photos. Needless to say, in typical Cryptee fashion, all these are encrypted on your device.
We think that this is huge, and it's going to make moving from other cloud photo storage services to Cryptee Photos a lot easier.
GESTURE BASED PHOTOS NAVIGATION
We know this is very small, and likely many of you haven't even realized it was missing, but you probably felt its absence intuitively. While browsing your photos full-screen on your touch devices, you can now swipe up/down to close the photo. You can also double tap or pinch to zoom in to your photos a bit more. Gestures which are all familiar from your mobile operating systems like iOS and Android.
PHOTOS PERFORMANCE
We've made some great performance improvements to Cryptee Photos! Photos now load 5 - 10% faster on average, and we've also added some nice transitional animations to make things feel even smoother and more natural.  
IMPROVEMENTS TO CRYPTEE DOCS
Some of you mentioned how difficult it is to download or rename attached / linked files in documents. We heard you! You can now take action on the files that are open in the file-viewer. So you can now rename, move, download, copy / attach or even delete the open files. This also means, you can now easily download or rename attached / linked files with two clicks.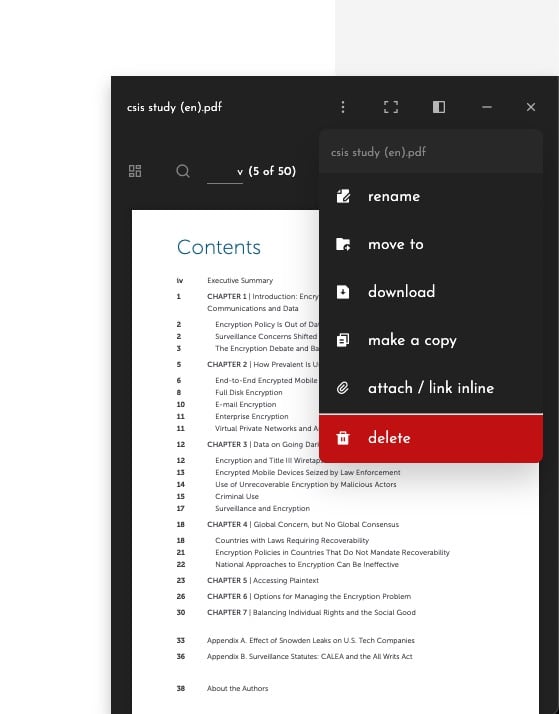 Many of you have been requesting us to add text-positioning features to our mobile editor. After a little bit of work, we're happy to let you know that you can now center, right align and justify your text on your mobile devices too! Here's how it looks like :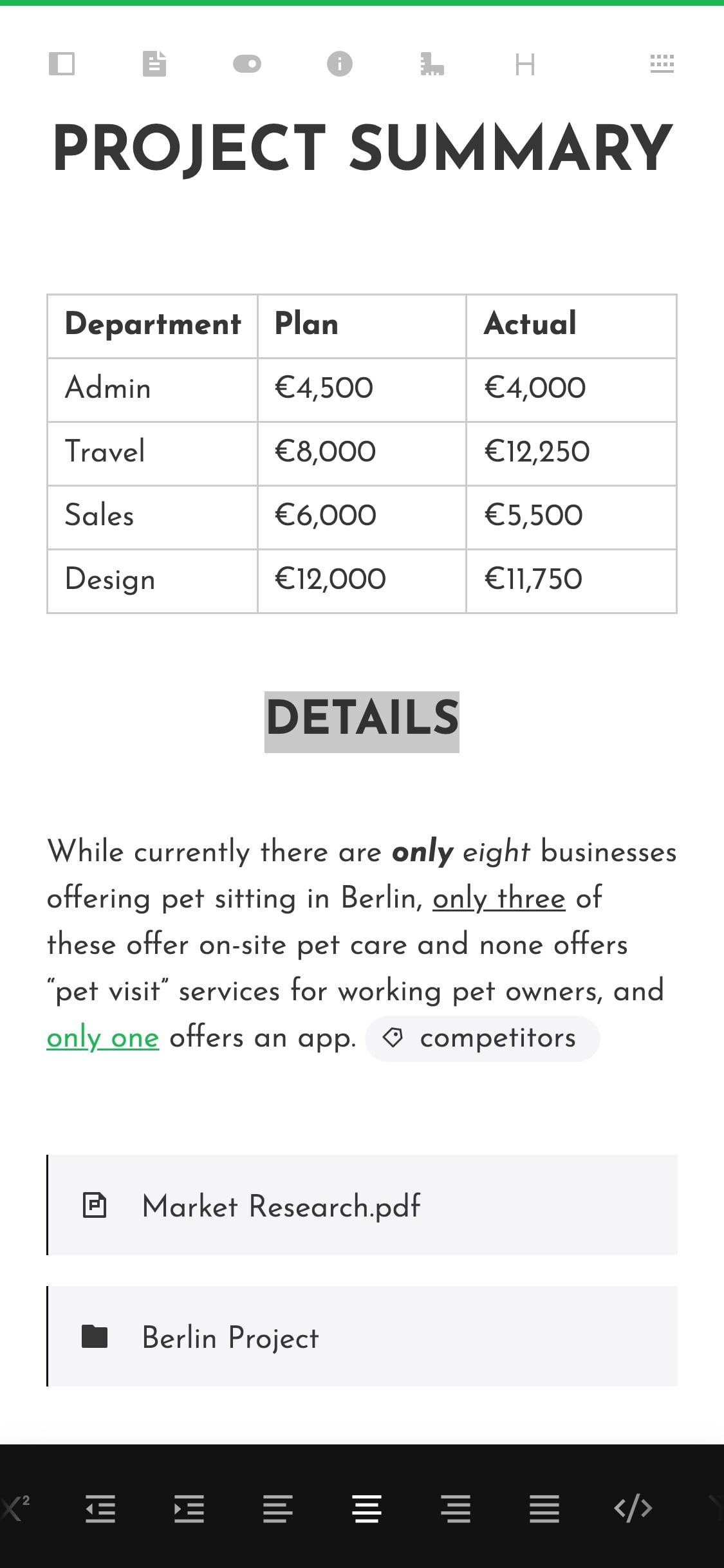 Up next, some security improvements. We've improved our URL boxes on mobile. Cryptee can now intelligently detect and warn you if your links are insecure. (i.e. using "http" instead of "https") All insecure links are automatically highlighted yellow, and all secure links are highlighted green.
Once you tap on a link, Cryptee's mobile editor will now show the URL box on the top with the same color-coded advisory warning. To make things even better, we've added a copy link button to this box as well. So you can now easily copy links with a single tap.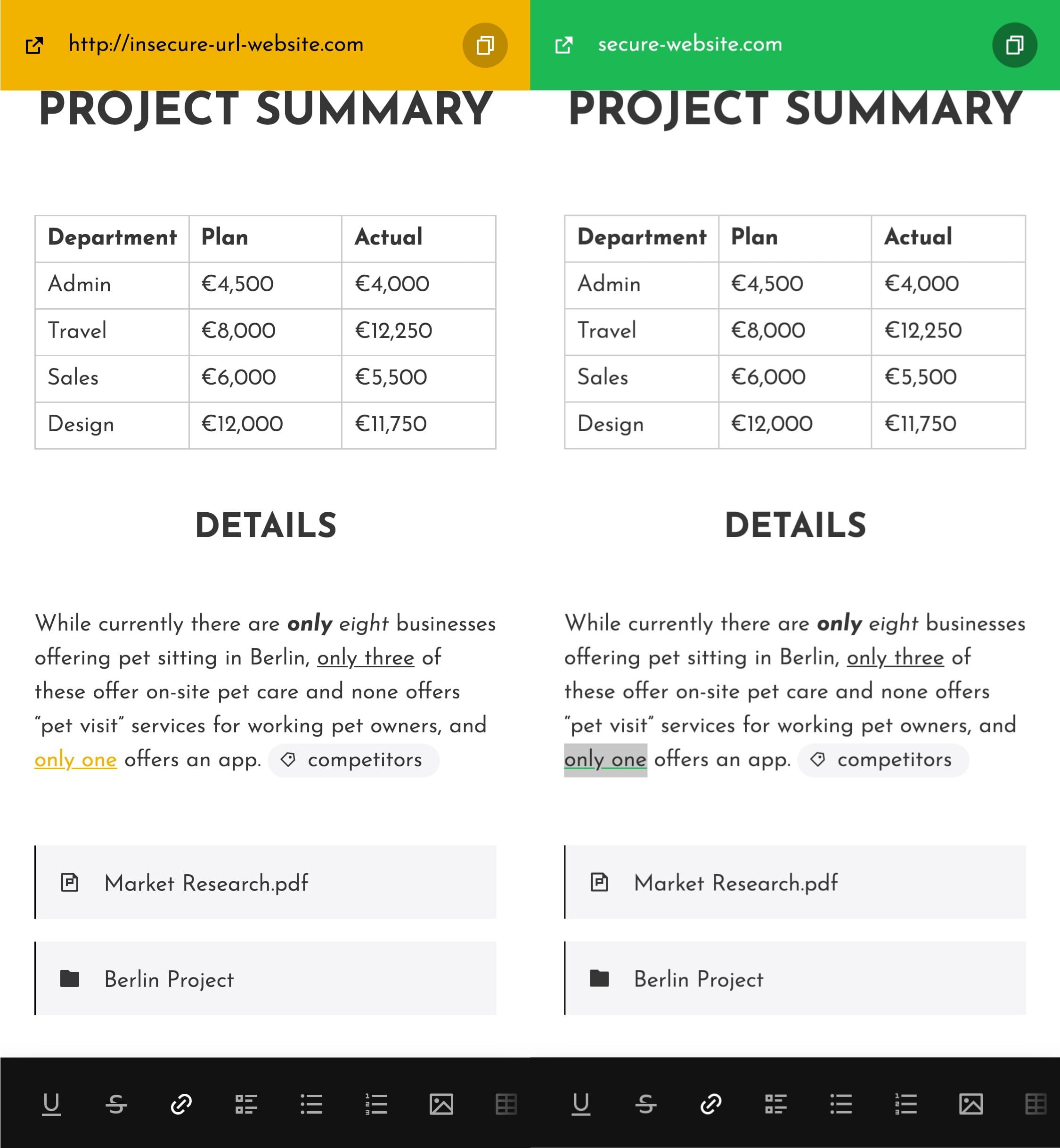 PDF VIEWER
We would love to write about every single improvement here, but we've made ~120 improvements, and frankly most of these are all nitty-gritty technical improvements to make our PDF viewer faster and even more cross-compatible.
Some of these are,
– Fixed scrolling bugs / performance issues with large PDF files,
– Improved pre-rendering for large PDF files
– Improved TrueType character support
– Improved PDF Image rendering quality
– Improved cross-browser rendering
– Improved translations for certain PDF features under the hood
and countless other bugs and improvements!
OTHER IMPROVEMENTS & BUG FIXES
This update is jam-packed with hundreds of small improvements and bug-fixes in all our apps. So here are a few highlights :
– We've made it easy to close New Document / New Folder popups on mobile
– Some browsers were incorrectly auto-filling Cryptee Docs' search bar with emails / usernames / other items and making it jump to the search box. We've improved all our input boxes to calm down all the confused browsers of the world.
– Improved the download speeds of Photos after pressing the "download" button from the full-screen photo viewer on mobile devices.
– We've improved our drag & drop uploader for Cryptee Docs. TLDR; if you drag and drop, say for example, a PDF file straight into your open document, it's now uploaded into the folder containing the document, and linked automatically. And our drag & drop can now better detect / guess where you'd like to upload the photo, and shows you either Inbox, or the parent folder of the document.  
– We've improved loading animations for Cryptee Photos, and got rid of some unnecessary flickering.
– We've improved the scroll speed of Cryptee Photos on low-end mobile devices, and even if your device is 4 - 5 years old, you should now be able to scroll at 30fps.
– The "Make Copy" progress spinner was off center, and has been triggering the whole team's OCD for weeks now, it had to be fixed.
And hundreds of other smaller bug-fixes, improvements and minor cosmetic upgrades.
CLOSING NOTES
We would like to thank you for all your enthusiasm, help, understanding and kind support! These features wouldn't be possible without you, your feedback and bug reports. If you're enjoying your experience on Cryptee, please consider supporting us by upgrading to a paid plan or by spreading the word.
Before we go, here's another photo of our winter-wonderland hometown, Tallinn, Estonia covered in snow, showing off its beautiful European old-town architecture.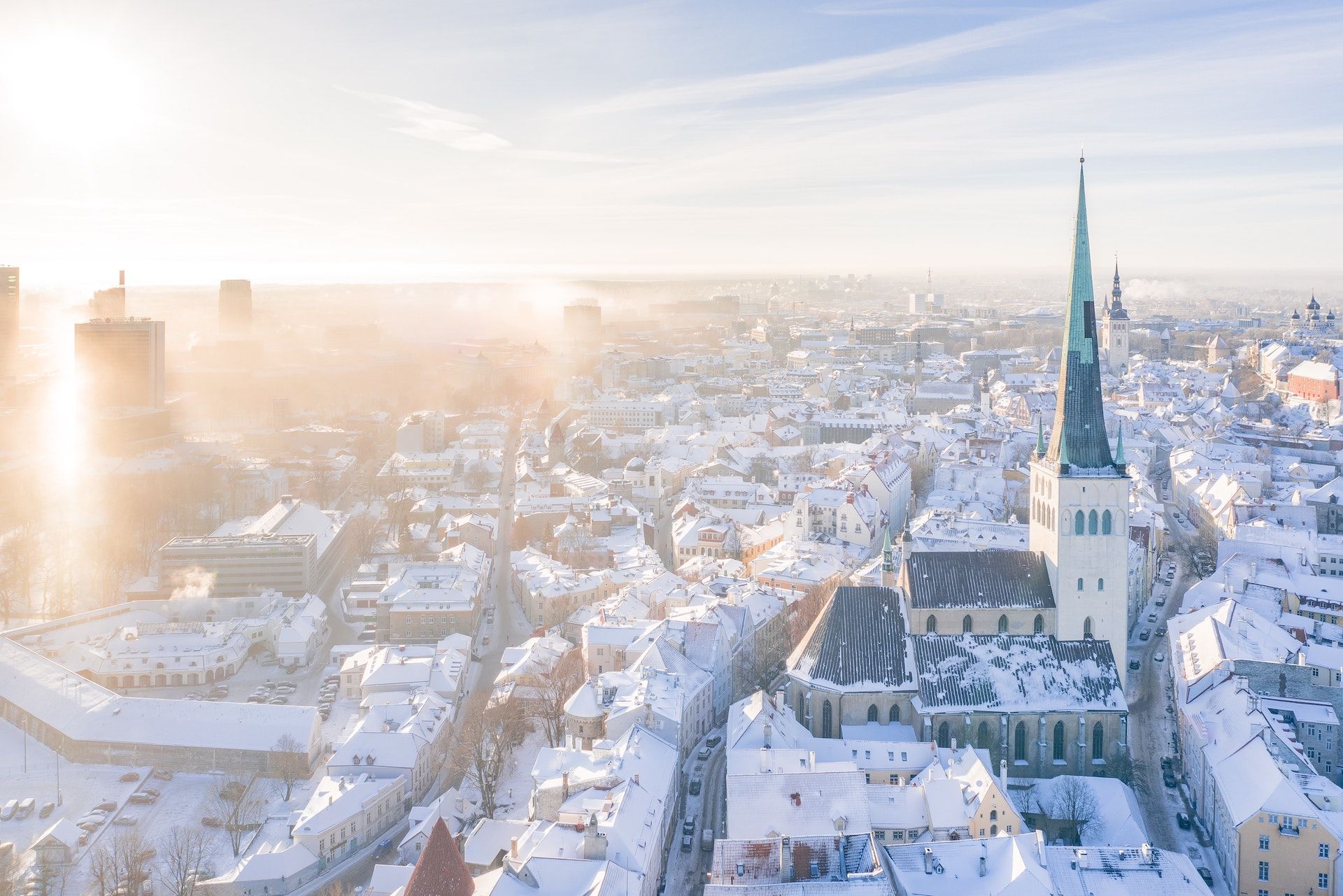 We hope you'll enjoy this  performance update as much as we do, and we will be looking forward to hearing your thoughts, ideas, feature requests, bug reports and what you think about our new features overall!
Stay safe and all the very best from a cold and dark Northern Europe,
On behalf of Team Cryptee,
John
---
P.S. – Both of the fantastic Tallinn winter photos are by Jaanus Jagomägi! Go check out the other photos, they're amazing.