A mere 2 weeks after our fantastic version 3.0 launch, we're here again with some more great news. You can now natively open & edit .DOCX files in Cryptee Docs! And in case if you didn't notice, as of version 3.0 you can also save / export your Cryptee documents as .docx files. We think this is big, and it's going to be a huge win for privacy.
1. SAVE STORAGE SPACE
You no longer need to have Word™ or Google Docs™ on your phones to be able to open and edit docx files on the go.
For example on iOS, Microsoft Word™ is 254.2mb, and Google Docs™ is 196mb. Whereas Cryptee is only ~10mb.
So if you're looking for a way to save 200 - 250mb of storage space on your devices, this is a great way to start.
2. OPEN / EDIT / SEND DOCX FILES QUICKLY & PRIVATELY
If you have ever used Word™ on your phone to quickly open & edit a .docx file, then you must have seen the annoying "sign in to edit and save" popup – and perhaps thought to yourself as an iOS / Android user, "Wait ... Why do I have to sign up / sign in to Microsoft just to open / edit / save a word doc!?" – you're not alone.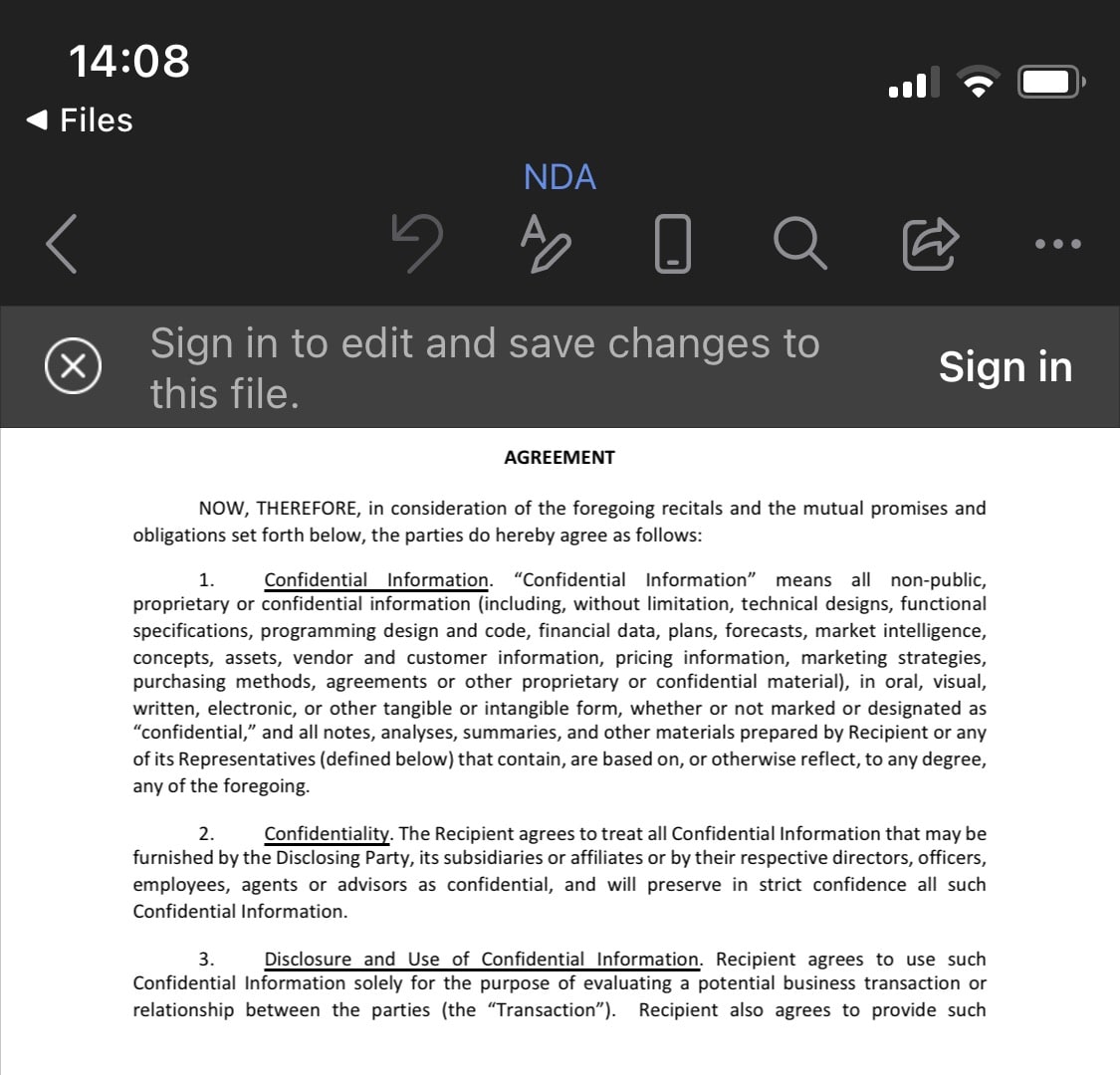 Starting today, as a Cryptee user, you can open, edit & save DOCX files in Cryptee Docs, on all your devices.
No more of those annoying Microsoft™ sign-in / license expired pop-ups.
Even as a free Cryptee Docs user you can open & edit docx files, and save your documents as docx files.
3. OPEN DOCX FILES SAFELY
A little known fact about docx files is that, due to the fact that they support macros, and other ways to execute code in them, they are commonly used by malicious third parties to distribute and spread malware viruses (source). Often malware and viruses are sent by unsuspecting co-workers or family members with infected computers, and all it takes for your computer to get infected with a malware like this is to open a docx file using Word™.
Cryptee does not run / execute macros while opening docx files, allowing you to open / edit / save DOCX files safely, without having to worry about your computer getting infected.
CAVEATS
Docx is a 15+ year old format by Microsoft™, a 1.75 trillion dollar company, developed by thousands of engineers over the course of many years – whereas Cryptee is a tiny company with limited resources. Unfortunately, docx comes with a lot of quirks and complexity that makes it a very difficult format to work with. To deal with this complexity, most unencrypted services, convert docx files on their servers, since their servers can access your documents and files OR they utilize online services by Microsoft to convert your docx files to other formats, by first sending your documents to Microsoft (source). At Cryptee, we believe that both of these approaches are unacceptable.
On Cryptee all your documents and files are encrypted on your device, so our servers cannot access your files / documents, and therefore cannot assist with these format conversions. And we think it's outrageous to send your private documents to Microsoft to convert them.
So instead, on Cryptee all your docx files are converted on your device, privately. As a side effect of this, although Cryptee is able to convert & open Word™ docx files, you may still experience compatibility issues. Like mis-formatted tables, missing colors, highlights, comments etc.
Therefore, in order to prevent data-loss, Cryptee will generate a copy of your original file before opening / converting / importing docx files. This way, if something is missing, mis-formatted or not converted accurately, you won't lose the original file, nor its contents.
While we are working around the clock to add more and more docx features to our editor, we thought it's best to release this feature as quickly as possible, and collect feedback from our community as we go.
CLOSING NOTES
This update also comes with a bunch of bug fixes and small performance improvements.
We would like to thank you for all your enthusiasm, help, understanding and kind support! Neither Cryptee, nor any of these features would be possible without you. If you're enjoying your experience on Cryptee, please consider supporting us by upgrading to a paid plan. Your payments help us make the internet that much more safer and private.
We hope you'll enjoy this update as much as we do, and we will be looking forward to hearing your thoughts, ideas, feature requests, bug reports and what you think about this update overall!
Stay safe and all the very best from Northern Europe,
Team Cryptee