A year ago this week, Cryptee launched with a big mission. To provide you a well designed, safe and private place to keep your digital belongings. And it's been a fantastic first year. Be it getting featured on the Wall Street Journal's Marketwatch, to getting mentioned by The Guardian, Deutschlandfunk and many other incredibly reputable press outlets. This was all possible thanks to your help, feedback, bug reports, feature requests, financial and moral support. Thank you so much!
To celebrate the first year, we've packed tons and tons of new stuff into this update. So much so that, one could call this a version 2.0! So much to talk about, so let's begin!
New Plans & Prices
Let's start with the biggest news. Things are now a lot cheaper, and you can store tons and tons of data. We're introducing 2 new storage plans to Cryptee.
400 GB and 2000 GB, for as low as  $€ 9 / mo and $€ 27 / mo (tax included, and $ or € depending on your region) – You can upgrade to these fantastic, new, high-capacity storage plans from your home screen or account settings right away.
And of course we didn't get rid of our free plan and most affordable 10GB plan.
These changes were made possible by making massive updates on the datacenter-side, but also on the application side, to make sure the apps won't slow down once you upload terabytes of photos.
New Features & Bugfixes
Clear Formatting Button.
You can now clear the formatting of the selected text with one click.

With the addition of this button, we had to move all the tools closer together to make sure they fit on all screen sizes. – namely, iPads. (More on this below)
A Quicker Way to Copy your Open Document
Last month, we've added a one-click way to make copies of your documents, and pretty much everyone who discovered this feature asked to have this button in the active document dropdown as well as the folders view. So you can now make copies of your actively open documents as well, and the copy will be placed in the same folder.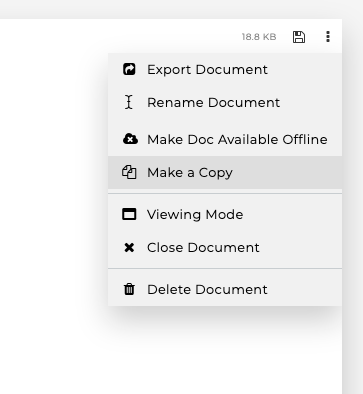 Home Document Actions
In the past there wasn't a way to take actions on home documents, like export them, or view them larger. While adding the "Make a Copy" button, we thought it's time to add all these features for all the Home Documents as well. So now, you can export your home documents, see them larger in Viewing Mode, or Make a Copy of them from the active document dropdown, and the copy will be placed in the Inbox folder. (and this folder will be automatically created for you if it doesn't exist already)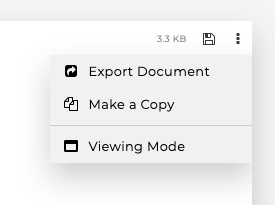 Dashboard Gets a Small Makeover
The dashboard needed a makeover to acommodate the future/upcoming Cryptee apps and services, but also we just wanted to get rid of those old and ugly icons, which have been lingering since the first day of the launch. Oh and in case if you haven't noticed before, you can track the amount of storage you're using on your dashboard. We also got rid of the silly cross-fade effects on the dashboard, which were sadly causing issues displaying on Firefox.

Smaller & More Performant Apps!
After months of coding, thoughtful optimizations, and careful reductions, all of Cryptee's apps (web, mobile and desktop) are now more than 50% smaller in size. Which means downloading/loading speeds on new devices are 2x faster, apps are on average 10 - 15% more performant, and more importantly, this means a few more megabytes of extra space for your offline documents.
Cryptee is ready for iOS 13 & iPad OS
You've heard the news. Apple's going to release a new operating system for iPads called iPad OS, and they said it ships with a desktop-class browser. If you're as excited as we are, you might have rightfully wondered, so what does this mean for Cryptee?
First.
It means all the tools you're familiar with from Cryptee's Desktop / Web editor will be available on the iPad OS. Not just the trimmed down touch-screen stuff, but the whole kingdom. That's right, the full editor, with all the tools.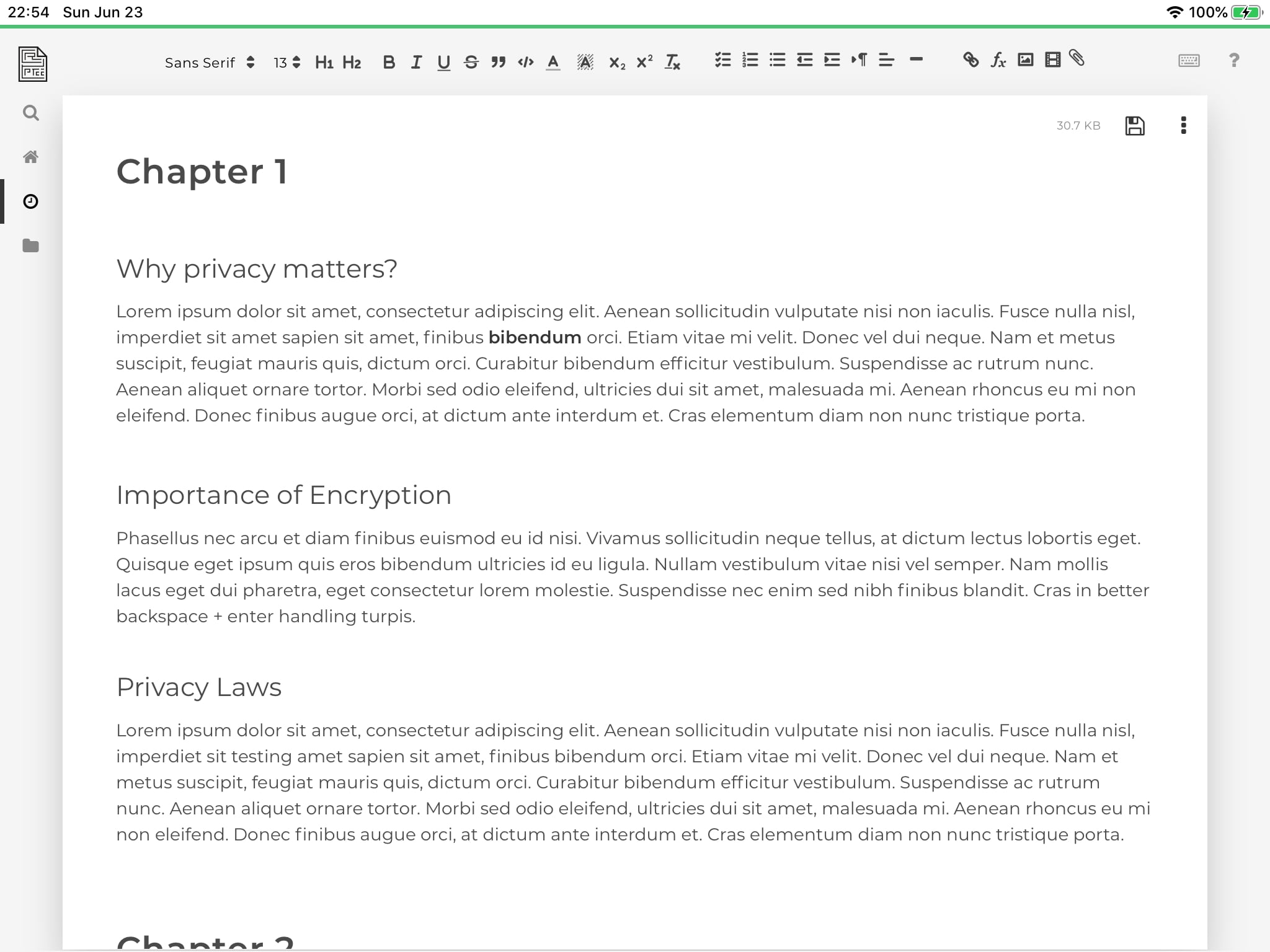 Secondly.
With iPad OS you'll be able to split apps in one-thirds, two-thirds, and in half. So if you've ever dreamt of researching articles about Mars on the left, and writing an essay about it using Cryptee on the right, you can now do that.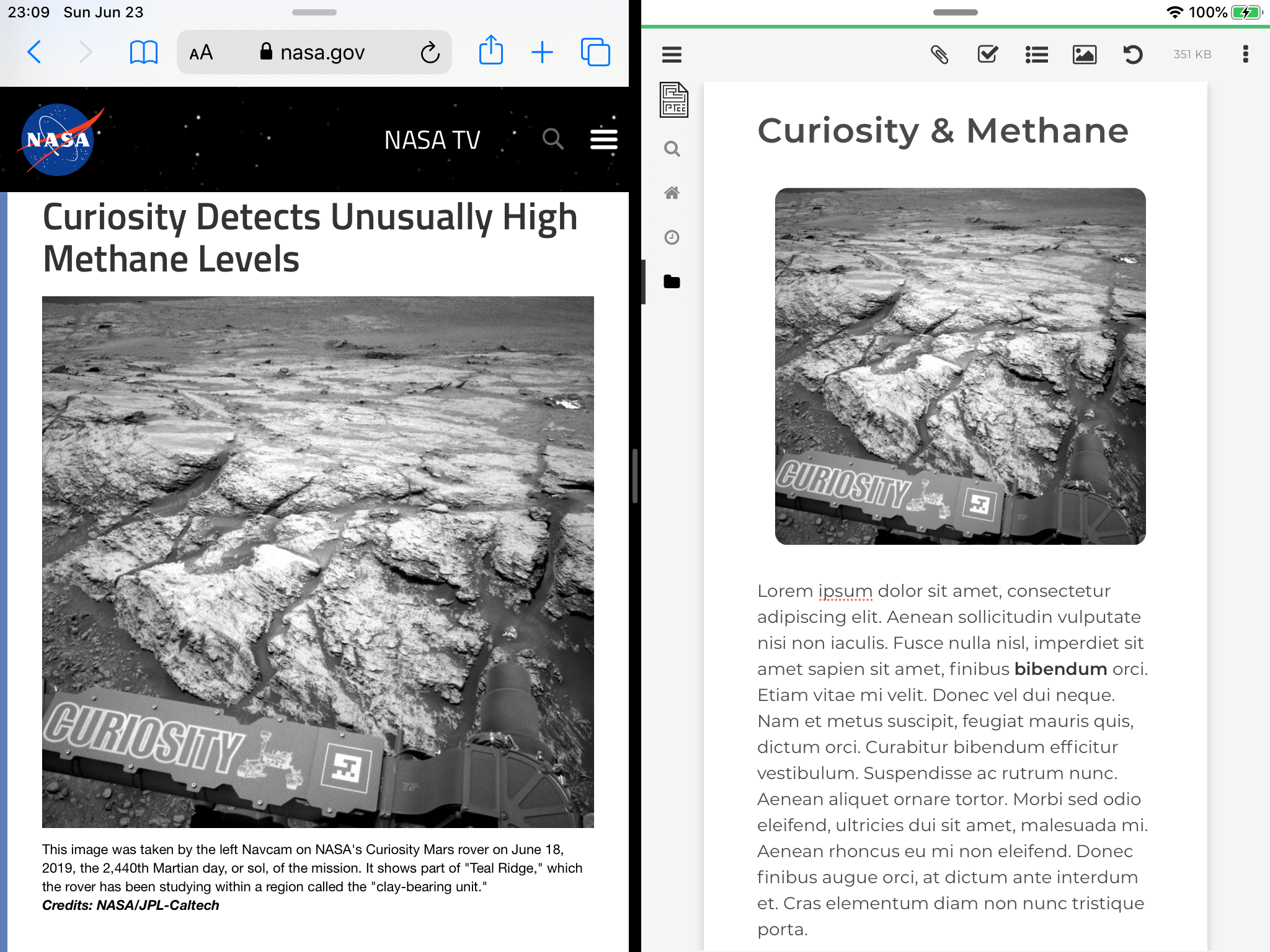 Do you need more space to read the article? You can simply make your browser bigger, and Cryptee will fit your screen, resize your content, and space your tools according to your screen split size.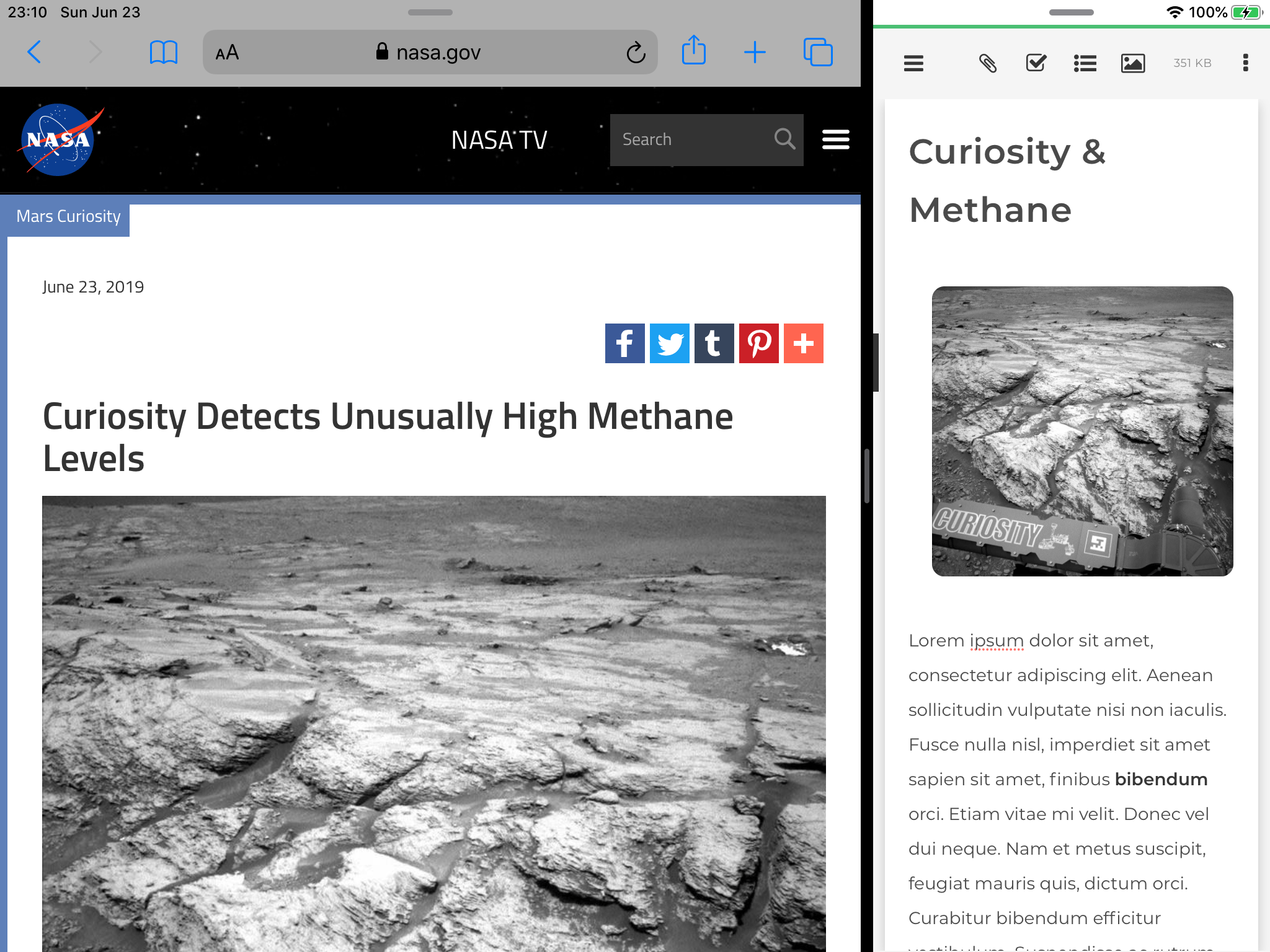 Or if you need more space for writing your article, that's okay too.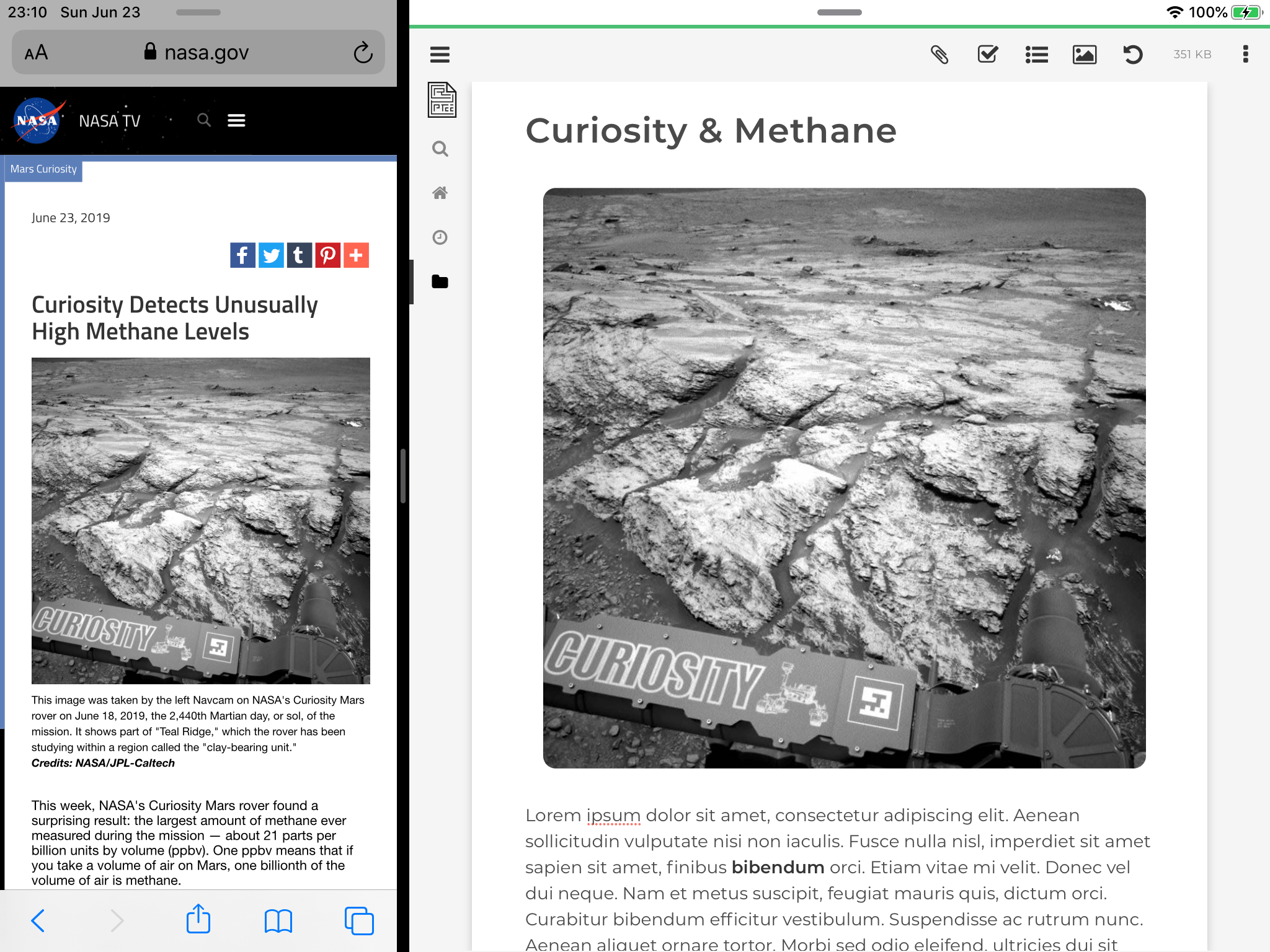 iPad OS also brings support for USB flash drives & external hard-disks. So let's say you want to upload some photos to Cryptee from your hard-drive. Especially now that there are larger Cryptee storage plans available, you will likely want Cryptee Photos to resize and fit your workflow just like Cryptee Docs. Now you'll be able to do that.
All you have to do is open Apple Photos on the left, Cryptee Photos on the right, and simply drag your photos into Cryptee.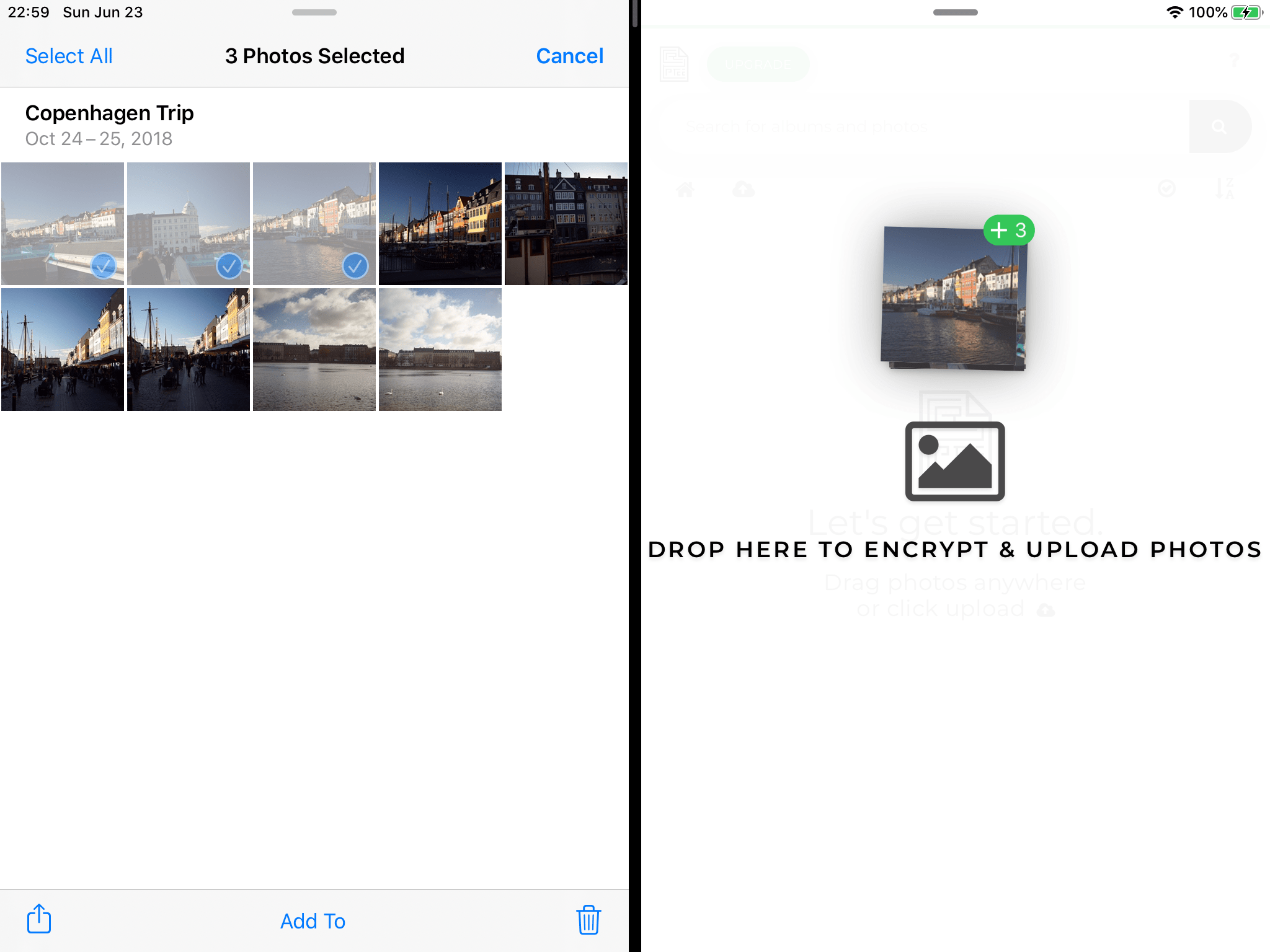 And just like Cryptee Docs, if you need more room for your Photos on the iPad, you can simply make Cryptee smaller, and your Cryptee Photos will resize and fit your screen perfectly.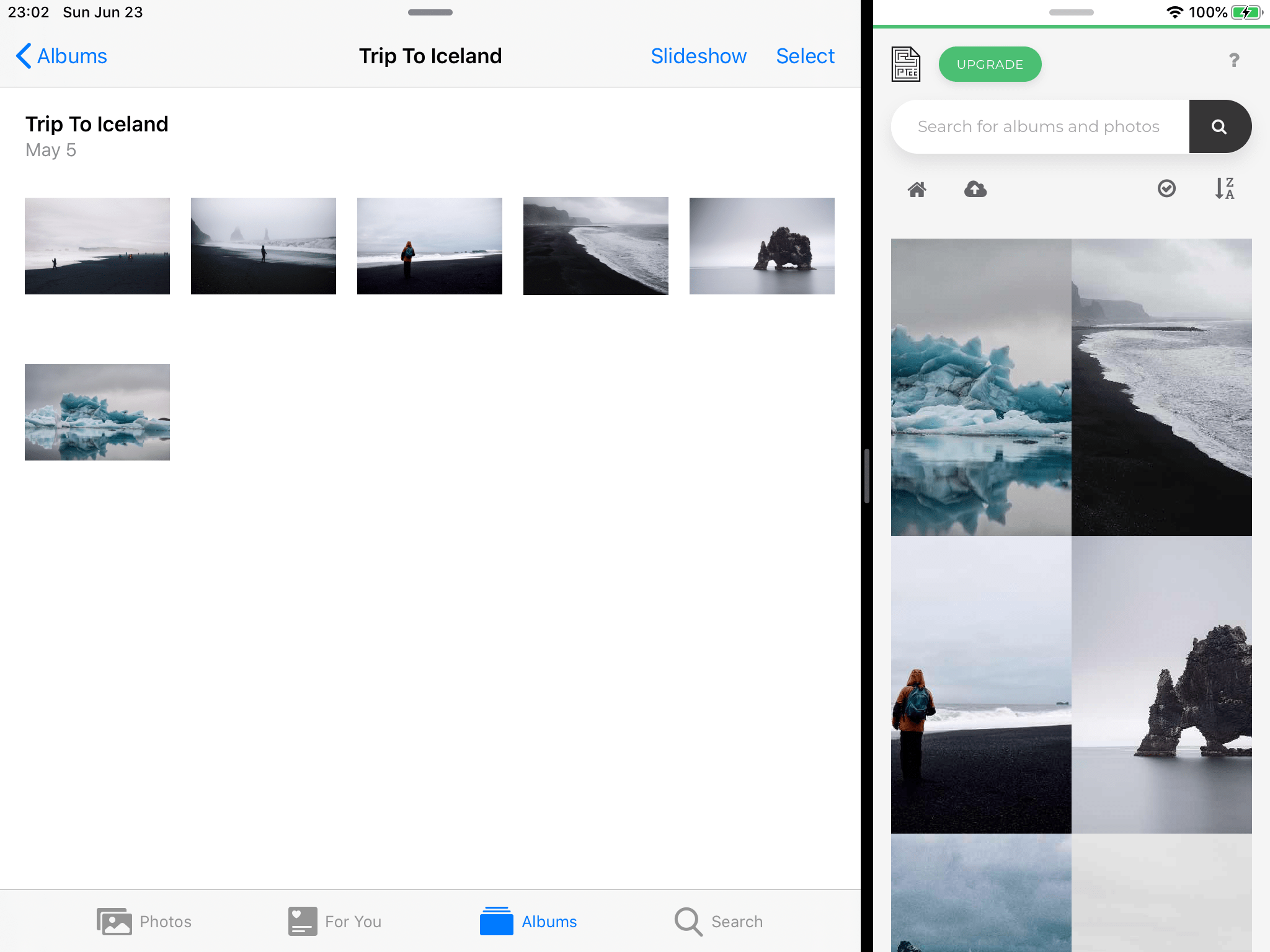 Or if you need more room for your photos on Cryptee Photos, you can make Cryptee Photos bigger, and your other application smaller.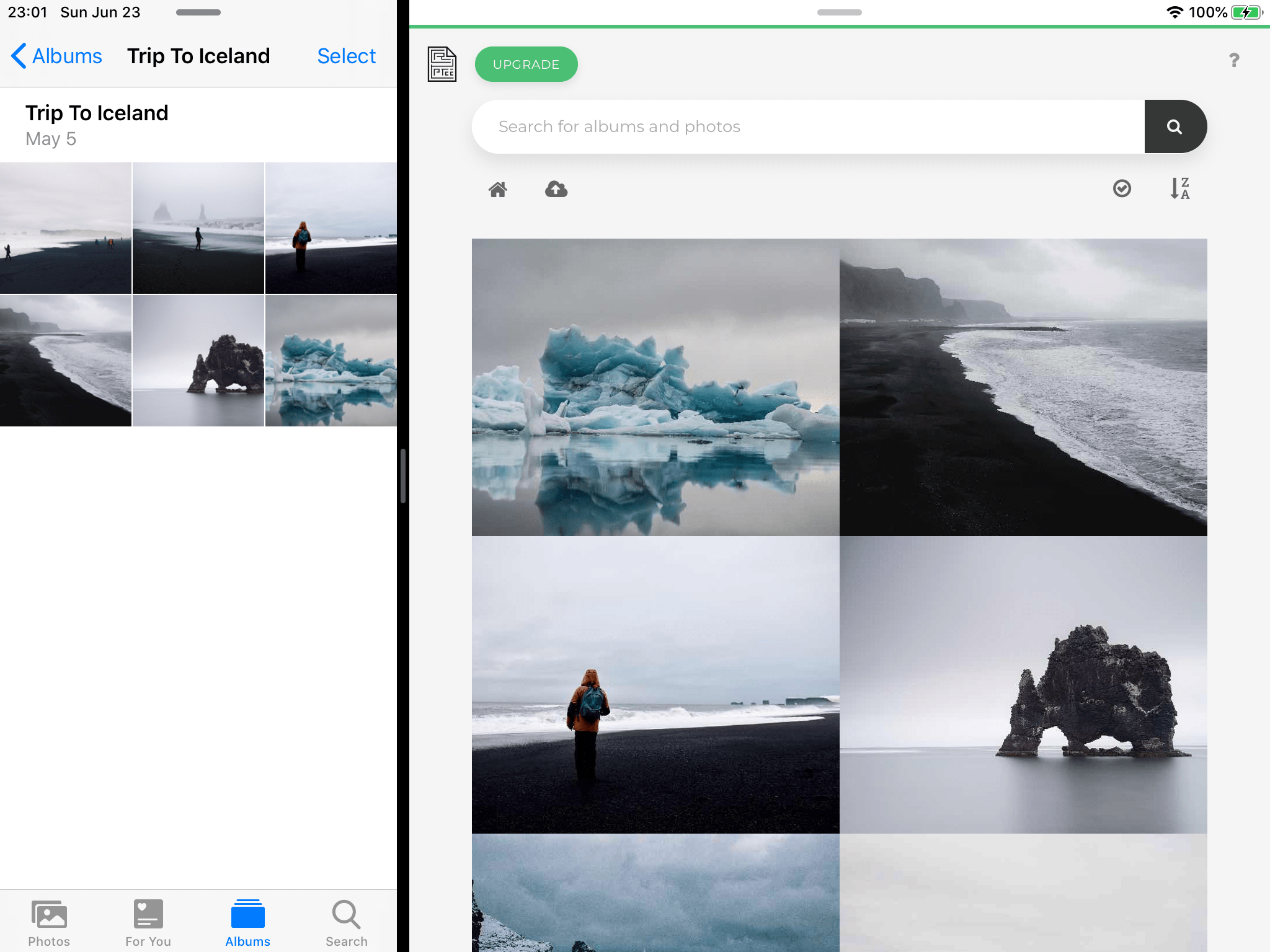 As you can see, everything will resize, shrink, and fit your workflow just the way you expect.
Best part of all this is that, all these new Cryptee features are available for iPad OS, starting today! Yes. That's right. iPad OS itself isn't even out yet, and won't be until September. But, if you have the currently unreleased developer copy of the iPad OS (iOS 13) then you can start using these amazing new Cryptee features today.
Please keep in mind that iPad OS itself is still in beta, and Apple may break or change things until its release date in September, and could potentially affect or break the way these new Cryptee features work. If you have it, and you're using Cryptee on it, please reach out to us with all the bugs you see on Cryptee. We'll try and fix these bugs right away, ahead of the public iPad OS launch.
Bugfixes
First things first.
Many million thanks for all of you out there, taking the extra bit of time reporting bugs on Cryptee. All this is possible thanks to your kind and generous help and support!
This update fixes several hundred bugs, animation glitches and performance issues. There's just too many of these to write here, but you'll definitely notice less issues. But especially if you're using KaTeX (or LaTeX math) we've fixed hundreds of bugs related to KaTeX, and you can now expect a much smoother formula-typing experience.
Given how big of an update this is, there's a high chance this update introduces a few new bugs with it too. So if you find a bug, or have a feature idea, reach out to us from our helpdesk. We'll get things fixed right away.
Speaking of bugs.
Last month we got sponsored by an amazing company called Sentry – They make the best and most amazing bug & error trackers, and best of it all is that it's entirely open-source. So naturally we've been using Sentry since day one to hunt down, track and eliminate bugs on our platform and have been loving it.
We're honored and humbled by their sponsorship & support, and can't thank them enough for helping us in our journey to make the internet a safer and more private place. Thank you fine folks @ Sentry. You are truly amazing.
Closing Notes
If you've read all the way down to this section, thank you for all your enthusiasm, help, and kind support. We wouldn't be able to do this without you.
As a reminder, you can subscribe to this blog using Email or RSS! Email subscription box is at the bottom of the page.
For the summer, we'll be slowing down the frequency of our major feature updates, and will focus on improving the user experience, all while building out two new services and apps for you.
Needless to say, if you're enjoying your experience on Cryptee, please consider supporting us by switching to a paid plan. It will help us immensely, and every little bit helps us make the internet that much more safer and private.