This was a busy month for Cryptee's development. This update comes packed with fantastic new features, improvements, changes and performance boosts. So much so that, there was no way to fit all these changes into the tiny news box on the homepage anymore. A lot to cover, so let's not lose time, and start right away!
Cryptee for iOS just got a lot better & faster!
Ever since launching Cryptee back in June 2018, a lot of iOS users have been asking for improvements to Cryptee's iOS app. Things like faster switching-time between apps, better ways to multi-task, drag & drop from other apps and more.
But most importantly, so many users have been asking for a "native app", assuming that none of these features would be possible to achieve with a PWA. well... now these are all possible and still with a PWA!
First of all. The iOS app now runs at 60fps on capable devices, launches instantly, and continues where you left off when you're switching between other apps. Here's a quick video!
Your browser does not support the video tag.
Multi-tasking on iOS!
If you're a fan of multi-tasking on your iPad, this update is for you!
You can now view your PDFs on Cryptee side-by-side with your document, and continue editing your document all at the same time. This used to be a desktop only feature, but now it's available on iOS as well. You can see this in action in the first video, but here's a screenshot: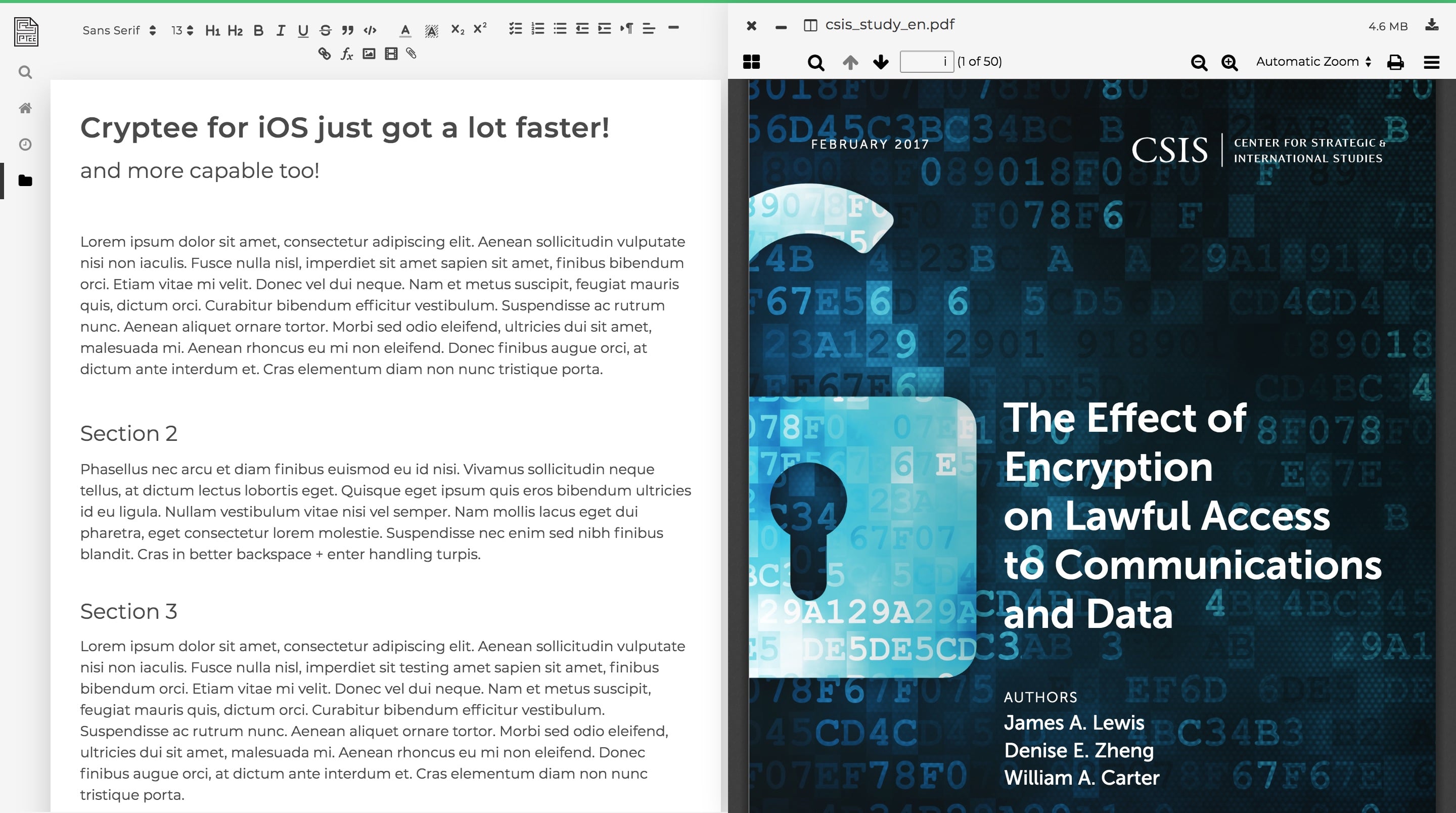 Also, the iOS app can now work in multi-tasking mode. So you can drag and drop images or text into Cryptee from other apps without ever leaving Cryptee. Here's a video showing how this works:
Your browser does not support the video tag.
Please note that these features require iOS 12.2. So if you haven't updated your iOS to the latest version, now is a good time.
Cryptee Docs Performance
Unlike most other secure / privacy services, everything, including file-names & folder-names are encrypted on Cryptee. This means that Cryptee's staff can't even see what your files / documents or folders are called. But this has a performance side-effect. Every time you load Cryptee Docs, first all your file-names & folder-names have to be downloaded and decrypted before Docs can start in the first place. This used to be a rather time-consuming process, delaying the amount of time it takes for you to launch Cryptee Docs and start writing your documents.
This update brings some improvements to the start-up process. Cryptee now builds and stores a small encrypted index & cache on your device the first time you launch Docs. So next time you launch Docs, this encrypted index & cache is used instead, and only the changes are downloaded & decrypted, allowing Cryptee Docs to start up under 2 seconds even on slower devices.
Presentation / Viewing Mode
One of Cryptee's amazing beta-testers mentioned that he occasionally needs to make a presentation from his Cryptee Documents, and having a viewing-only-mode which strips all the buttons would be immensely useful for this purpose. Now you can quickly toggle the Viewing Mode, and present your documents on big screen.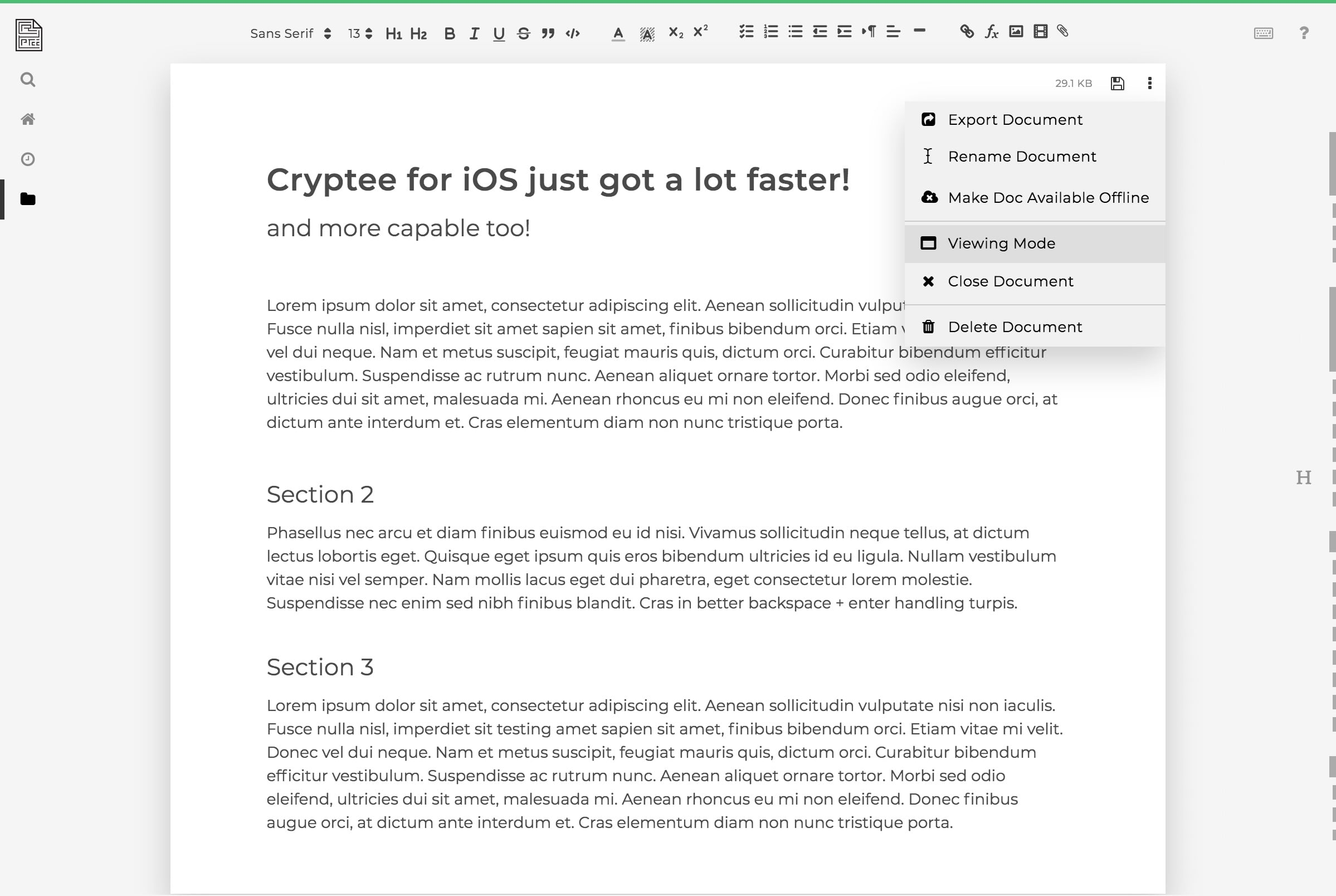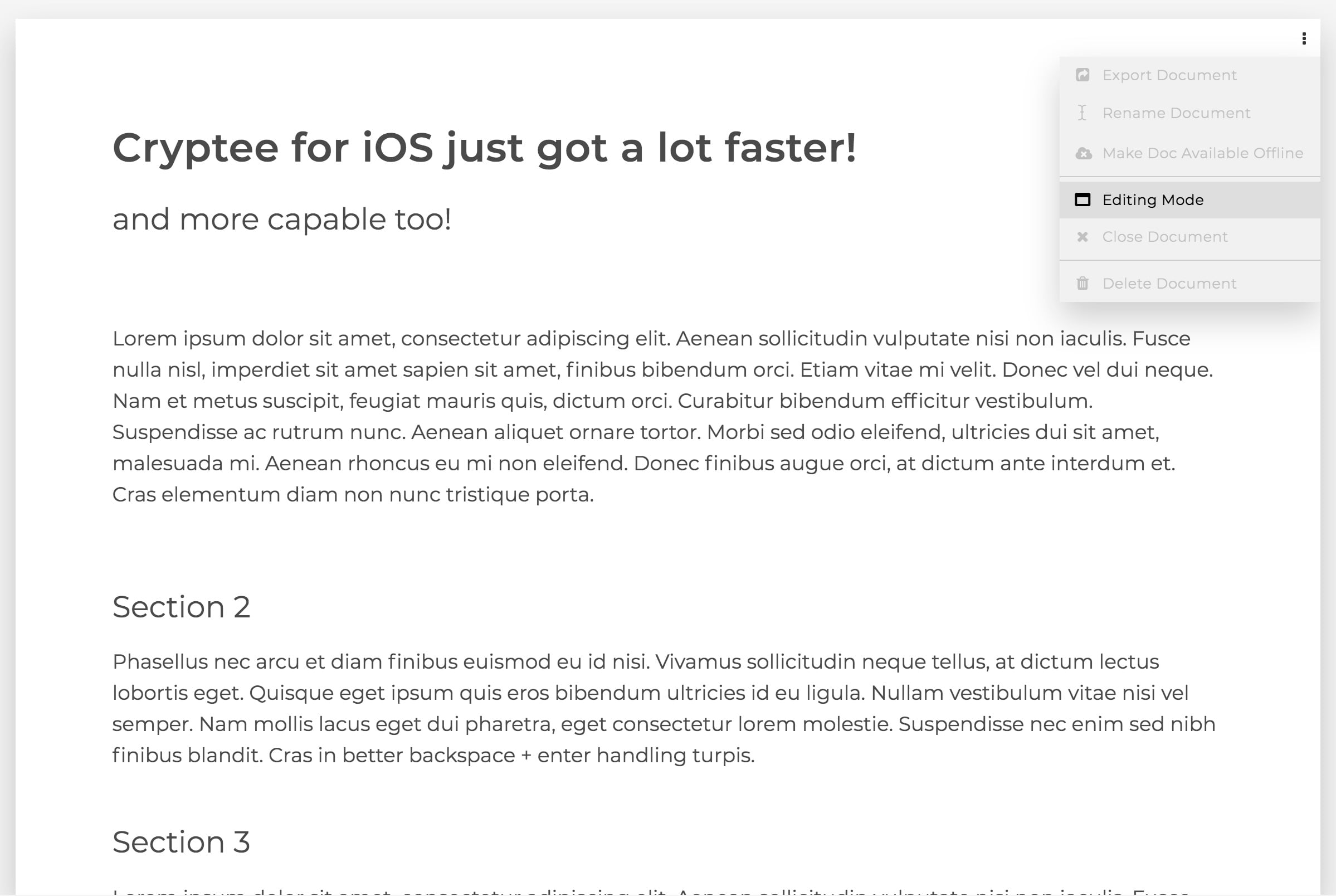 The Blog.
Many of you have been asking for a convenient blog / newsletter to follow all the changes & software updates to Cryptee. This turned out to be more difficult than it seemed on the surface.
The ideal blog for a privacy service like Cryptee would have to hosted on a platform that respects readers' privacy. So no Medium, no Blogger etc. – and ideally a platform with a convenient subscription system which supports rss, or email subscriptions (you can subscribe below)
So everything on this page, including the videos, gifs, and even fonts are hosted by Cryptee, leaving no room for others to track you so that you can privately read & subscribe to Cryptee's product updates. So no youtube trackers or nasty cookie banners.
And, that's all for this update!
[other than hundreds of bug fixes of course]
Hopefully these new features will make you feel more at home while using Cryptee, increase your productivity, and bring happiness to your life overall!
Needless to say, if you like these new features & updates, please consider subscribing to the paid plan. It's cheaper than a cup of coffee, and together we can make the internet a safer and more private place.
All the very best from Northern Europe,
John